Issue 16: October 2017 – Quaker Inclusion Issue
One of the most striking points to come out of the 2017 Yearly Meeting Gathering was a statement made by Tim Gee in the Gorman lecture on the lack of inclusion and diversity within British Quakerism. Tim said that UKIP candidates were more ethnically diverse then British Friends. We asked for the figures he based this statement on. He provided us with academic work from 2013 that showed that our Society of Friends is 99% white, 61% retired and with only 28% placing themselves in the lower income bracket, not due to poverty wages but mostly the fact they are retired. The light of Friendship it seems is not truly open to all within our Society of Friends.
In this issue we will explore both the exclusion and isolation of many Friends or potential Friends due to their race, class, sexuality, age, gender and disability both within meetings and in wider society. We also look at potential ways we can struggle against the exclusionary privileges operating within our Society of Friends and how we can begin to build the truly inclusive Quakerism that our equality testimony demands of all of us.
In this issue:
Seeing the light in everyone – a challenge for British Quakers to reflect on their privilege
An interview with Tim Gee on the 2017 Gorman Lecture – Movement Building from Stillness
Precarious Friends – the reality of being a Quaker in Low Pay Britain
What makes silence beautiful?
Quakers: the vanguard of transformation or part of the problem? – a Young Friend reflects on how understanding the social model of disability changed her life
Seeds of a New Quakerism – links between Young Adult Friends communities and contemporary social movements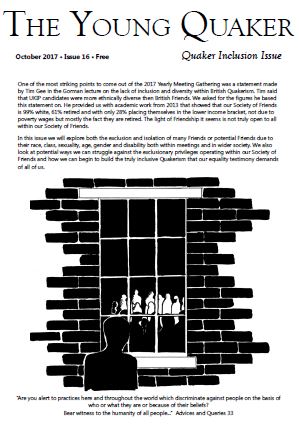 TYQ October 2017 Quaker Inclusion